Bi-Directional Amplifiers, BDA Installation, and BDA Testing for BDA Amplifiers
in Charlotte, NC, Augusta, Athens, Atlanta, Macon, Marietta, GA, Columbia, Greenville, Charleston, Myrtle Beach, Spartanburg, SC, Jacksonville, FL, and Surrounding Areas
Coastal Empire Fire & Security is an authorized supplier, installer and tester in SC, GA, & FL for Bi-Directional Amplifiers (BDA). Our knowledge and experience with commercial building needs, municipality compliancy and professional installations is driven by our work with BDA Systems as well as commercial fire alarms, security systems, and access control.   We are proud to be the go-to company for many commercial applications as a full-service safety compliance company.
BDAs are required in commercial buildings to boost signals for first responders. Clear and secure communication requires BDAs for dead spots caused by barriers such as concrete, windows, metal, interference and more. Often these dead spots will be in:
>

Stairwells

>

Underground parking

>

Tunnels

>

Elevators

>

Pump rooms

>

Reinforced shelters

>

Large areas with multiple buildings (school campuses)

>

Buildings with thick walls (sports arenas)

>

Nearly all Multi Story Buildings
*
Dead spots exist in 98.5% of buildings and 56% of first responders have experienced communications failures. The need for BDA systems is not only required to meet code compliance but also preparation for safety during any emergency.
BDA Installation and BDA Testing
Bi-Directional Amplifier systems have been required in new construction since 2013, and laws are now being more strictly enforced and starting to expand to existing structures.  Coastal Empire can provide various BDA services. We have worked with a number of different municipalities for our systems and have the know-how to get jobs completed and meet or exceed code requirements.  Nothing short of a completely professionally installed system that meets all compliance codes will get passed. Nothing short of great service and quality control is what we deliver to our customers.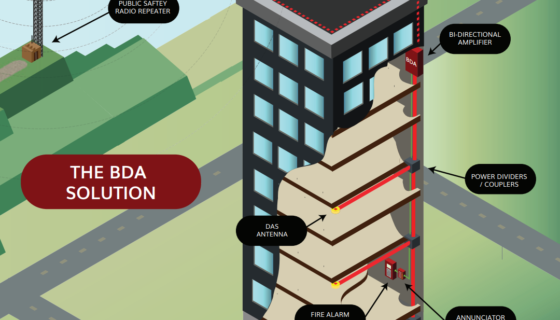 Work with architects and engineers pre-construction for optimal design
Third party BDA testing and certification
Annual testing and certification
BDA installation on existing structures for compliance
New construction
Customized systems
Building renovations
(5) Five Year code required re-certification of BDA installation
Additionally, Coastal Empire has the necessary certifications as dictated by IFC (International Fire Code) including FCC-issued General Radio Operations License and training certification. The manufacturers of the BDA we carry have specific training we must pass in order to install their systems.  We take this training very seriously as a commitment to our industry and the safety of our customers.
Bi-Directional Amplifier Systems also have a number of different requirements when it comes to power. Besides the dedicated back-up power source, different warning signals will warn of lower power and other issues through a dedicated monitoring panel. Coastal Empire has worked with different powering options through the other systems we install, including fire, alarm and security, and are well-versed in the top safety issues for back-up power. We find this especially essential in our hurricane-prone area and take back-up power capability as critical to our customers and our community.
Bi-Directional Amplifiers
Coastal Empire meets all the requirements set by NEPA and IFC. The state of the art system is a total solution BDA to exceed code set for local emergency frequencies.
Lasting design – excellent heat dissipation, corrosion resistance and ease of wall-mounting
Emergency communication secure – supports all public safety frequency bands with excellent reception quality and high rejection of interfering signals (RH interference) and feedback
Facilitates upgrades – easy troubleshooting and channel expansion with convenient terminals. Easy updates and frequency band changes
Local code adaptable – models for UHF,VHF, 700MHz FirstNet, 800 MHz and multi-band
High reliability – two power supplies with monitors for operation, voltage, temperature, current and other parameter measurements
Booster capability – multiple boosters on same antenna for multi-band operation
More features and capabilities are included on the system and the system can also be customized to meet any municipal system, building or other needs. Coastal Empire will design the exact BDA system your property needs for first responder communication and local code compliance. We will never assume that one size fits all buildings and electronically model and engineer each system for each unique building's need as required by code.
BDA Amplifiers
BDAs can be installed in any location for signal boosting, not only where required for compliance. Any area with weak or dead spots should have a BDA system to ensure reliable communication for first responders. Constant, secure and guaranteed communication should be part of any company's and building's security plan.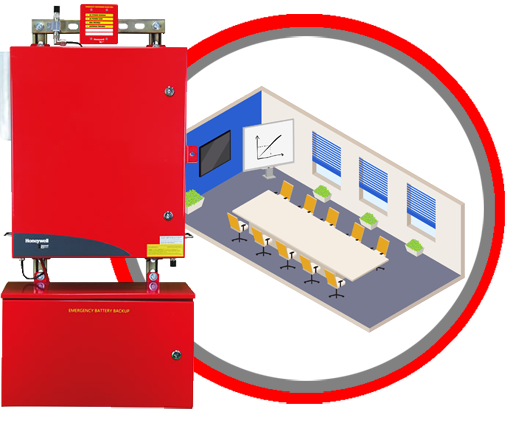 Transportation depots
Warehouse distribution centers
Industrial complexes
Military
Multiple-family apartment complexes
Hospitals
Prisons
Hotels
Schools
Sports arenas
Public theaters
Government buildings
High-rise buildings
Office campuses
Shopping centers
Underground transportation
And other commercial, government and public spaces
Providing BDA amplifiers, bi-directional amplifiers, BDA testing and installation in Charlotte, NC, Macon, Augusta, Athens, Marietta, Atlanta, GA, Spartanburg, Columbia, Greenville, Charleston, Myrtle Beach, SC, Jacksonville, FL, and surrounding areas.
*