Bi-Directional Amplifiers, BDA Testing, and BDA Installation of BDA Amplifiers in Macon, GA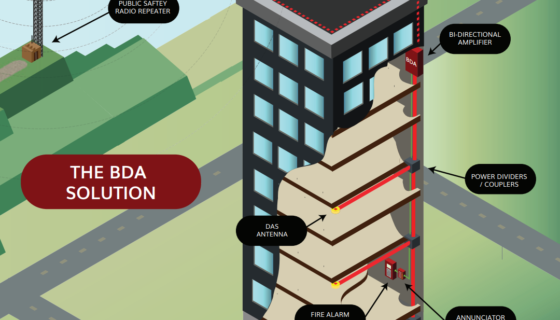 All municipalities have their own compliance rules for Bi-Directional Amplifiers (BDA) and Macon, GA is no different. BDAs boost signals for first responders to cover dead spots where communication signals can be lost. Dead spots in buildings and properties are caused by concrete, metal and other barriers and create significant safety and security hazards. Dead spots can be found in tunnels, pump rooms, elevator shafts, stairwells and more.
Coastal Empire Fire & Security is an authorized supplier, installer and tester for Bi-Directional Amplifiers (BDA) in the Macon GA community. Coastal Empire can tailor the exact BDA system your Macon property or building to meet first responder communication and local code compliance. No two buildings or layouts are the same so each design will need to be unique to amplify systems as required by law and for best performance. Be sure to choose the company with the experience and knowledge for your BDA testing and installation.
BDA Testing and BDA Installation
Coastal Empire has worked with many companies in the Georgia and South Carolina areas for extensive and professional installation of commercial fire alarms, security systems and access controls. BDA installation and testing is another security and compliance system that fits in the company profile as a full-service provider.
Coastal Empire has the IFC (International Fire Code) dictated certification as well as the FCC-issued General Radio Operations License and training certification. This commitment to upholding industry standard is taken very seriously, so every job is done to the best professional ability.
• Third party BDA testing and certification
• Annual testing and certification
• BDA installation on existing structures for compliance
• Work with architects and engineers pre-construction for optimal design
BDAs are required in all new buildings, renovations and remodeling. In addition, local compliance codes may require them in all building regardless of when built. Coastal Empire can ensure your building is adhering to local compliance as well as conduct any 3rd party testing of systems installed by other companies.
Bi-Directional Amplifiers in Macon, GA
Macon, GA, nicknamed "The Heart of Georgia" due to its location in the center of the state, has an estimated population of 152,600. This central city is accessed by three interstate highways – I16, I75, I-475, leading to Savannah, Atlanta and a city bypass respectively. Macon is home to Mercer University and Middle Georgia State University as well as Wesleyan College. Visitors can go to the nearby Ocmulgee Mounds National Historical Park to see mounds and artifacts from early Native Americans that first arrived in the area while following ice age animals.